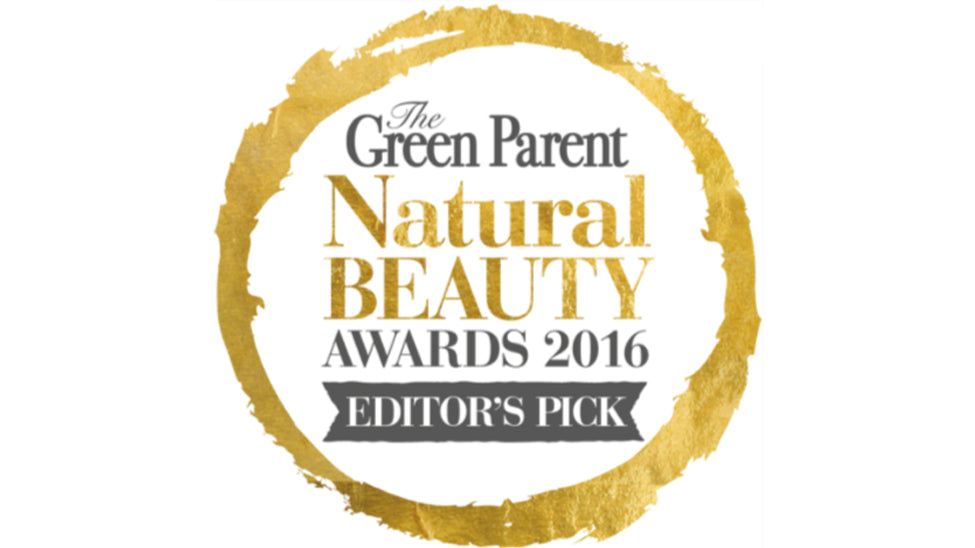 Today we are bursting with pride as well as botanical extracts to hear that we have won 'Editors Pick' by Melissa Corkhill in the Green Parent Natural Beauty Awards 2016.  We thank you for voting for us and making our Facial Wash a winner.  
Each of the winning items in the Green Parent Natural Beauty Awards 2016 have been carefully chosen and tested. They looked out for the most effective, pure, natural, luxurious beauty products that the world has to offer and we've gathered them all together for you in one handy booklet, which will be published later this month (or get your copy here http://bit.ly/29bMM1W) 
Six months ago the search started for the very best natural and organic beauty brands, covering everything from organic hair care and chemical-free skin creams to natural baby lotions and pregnancy products. The Green Beauty Bibles independent review panel tested hundreds of products from over 60 different natural and organic brands to find the finest and the most effective. They insisted on products being free from petroleum-based chemicals, propylene glycol, parabens or sulphates and NO animal testing so you can be assured of their safety. The Green Beauty Bible along with ourselves here at skin:genius believe that beauty is more than skin deep. So the look out for those products that are made by passionate people; companies that we can all trust; those who put care and love into their work began.
Inspired by nature, our 'No Junk' Facial Wash helps restore harmony to oily skin troubled by pimples, spots and acne. Like all of our products, it is packed with natural ingredients that will help banish the bacteria that cause acne while calming and soothing inflamed, infected pores.
The Facial Wash helps to rebalance the skin by introducing natural emollient ingredients that leave it feeling smooth and soft. A diverse range of active ingredients combine to cleanse the skin and kill off the bacteria which cause acne and spots. Its action is effective and gentle with several ingredients actively soothing and calming redness and sore spots. Its fresh citrus scent appeals to both men and women and the ease of use is ideal for people who are looking for a quick fix – simply use one pump over the face and neck area, massage in briefly and rinse off with warm water or with a facecloth giving exfoliation. There is no mess, no fuss and no waste.
To celebrate this, we have released a Limited Edition Facial Wash Pack which contains a cotton wash bag, 150ml Facial Wash, cotton facecloth and lavender bag for just £17.99
Key ingredients include:
Agrimony to help heal wounds, reduce swelling and redness and prevent pimples.
Witch Hazel to reduce inflammation, calms redness and soothes sore spots.
Mallow to leave the skin feeling soft and smooth.
Oregon Grape which contains a compound called berbamine which kills on contact the bacteria that contribute to acne.
Yarrow to fight bacteria, reduce inflammation and aid in healing the skin
Nettle which is high in antioxidants to help heal the skin while also having anti-inflammatory, astringent and anti-bacterial qualities.
Red Clover to reduce inflammation, skin rashes and irritations.
Calendula which is anti-microbial and can kill bacteria that typically cause acne.
Ribwort which kills bacteria and other microorganisms. It is anti-inflammatory and helps to calm and soothe this skin. A natural source of Salicylic acid, it helps reduce further breakouts.
Roman Chamomile to calm and refresh the skin.