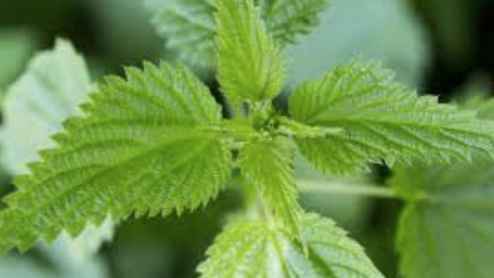 This has to be up there as one of the most amazing plants full of antioxidant properties, is anti-bacterial, anti-inflammatory, healing in many ways, an astringent and stimulating.  Nettle is a great remedy in helping treat your skin in ways as above as well as excema, rashes, nosebleeds, aneamea, burns, dandruff, arthritis, kidney stones, muscle aches, rheumatism, arthritis, osteoporosis and much more.
Nettles can also be eaten as the sting disappears when you cook - try steaming or drinking as tea (will help sneezing and itching as well as being a great cleanser) or they can be eaten raw but be sure to fold the leaf the right way!  The best leaves are the new ones at the top from where the nettle oil is taken and at spring time they are full of vitamins (A, B complex, C, D and K), minerals (such as potassium, calcium and magnesium), iron and a range of constituents which include carotenoids, flavonal glycosides and carbonic and formic acids.  Amazingly the hairs which sting contain seratonin, formic acid and histamine. 
Next time you see them on your walk don't think of them as a weed, just remember how wonderful they are.