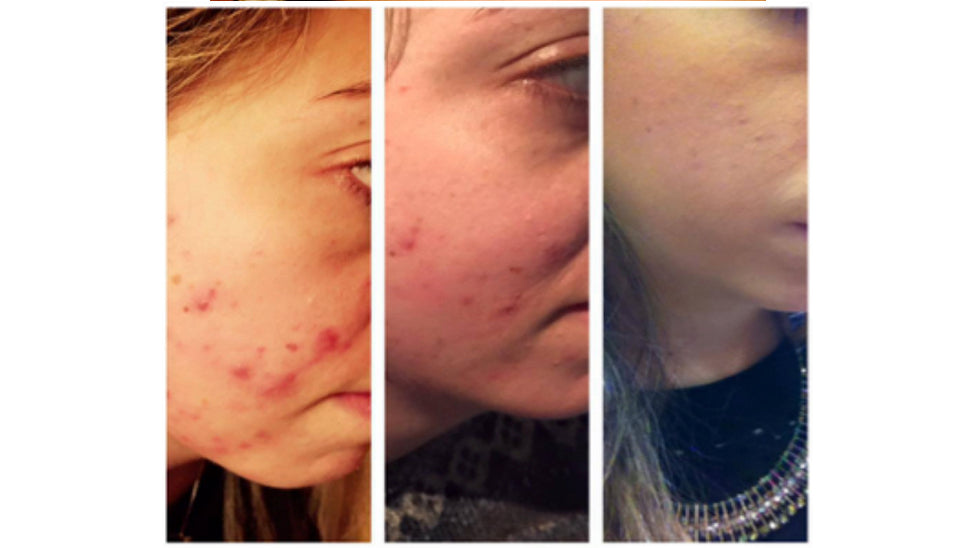 This picture is of Emily before using, at 3 and then 6 weeks - amazing results and her skin has stayed clear too.  As well as clearing her skin its boosted her confidence, she is happy and more relaxed about everything.
skin:genius comes to the rescue of 'exam stressed' teenage skin by offering all students a 15% discount on our pack of three products – FCM1: simply enter 'STUDY16' at the checkout to receive this and is valid until June 24, 2016.  In addition: people who take a photo of the affected area before using skin:genius and then again after using the products for four weeks will also receive a code to get 20% off their next order.
Teenage skin can be troublesome at the best of times but the extra stress of exams can trigger further problems. Spots and pimples on top of revision hardly seems fair.  When we become stressed our skin produces more cortisol, our body's stress hormone, along with other hormones. This results in the sebaceous glands in our skin producing more oil and this can lead to spots, acne and other skin problems.
As our products are jam packed full of natural and organic ingredients which are anti-bacterial, anti-inflammatory and will also soothe and calm the skin, they really can make a difference to teenage skin and the results are lasting as the products address the cause of acne, pimples and spots and don't just mask the symptoms.
Each product is bursting with botanical ingredients carefully chosen to soothe, treat and clear teenage skin.  They are all easy to use too, one pump onto the face and that is it.  No pads, no fuss, no waste!
skin:genius Facial Wash (£17.99, 150ml) is specially formulated to help restore harmony to oily skin troubled by pimples, spots and acne. It's packed with natural ingredients that will help banish the bacteria that cause acne while calming and soothing inflamed, infected pores.
skin:genius Clarifying Treatment Lotion (£19.99, 100ml) is packed with 98% natural ingredients which work naturally to help you banish the bacteria that causes acne while soothing inflamed, infected pores. The ingredients work together on the skin's surface and deeper in the top layers of your skin to bring immediate relief and longer-lasting results.
skin:genius Moisturiser (£18.99, 100ml) is rich in nut oils which work in synergy to soften the skin, manage excess sebum production and calm inflammation caused by acne or break outs.