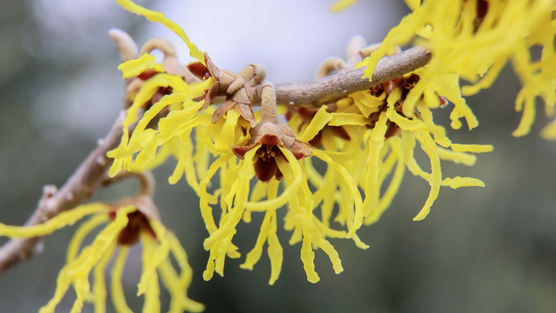 One of our much loved ingredients is now at its best – Witch Hazel. Take a look around you – you'll be surprised where you'll find them.
Witch Hazel is one of our Heroes and plays an extremely effective role in our skincare products because of its anti-inflammatory, anti-bacterial and antioxidant properties so it is perfect to help prevent acne and spots! This is the effect of tannins that reduce the appearance of pore size and help to prevent bacterial infections, it also helps our skin to be better protected against external elements.
It has an astringent effect that helps to tighten blood vessels, reduce swelling and fight bacteria.
Its not only a Hero ingredient in skincare, it works with a variety of ailments including cuts, burns, insect bites, skin wounds, nappy rash and hemorrhoids. 
Hamamelis Virginiana (Witch Hazel) Water is obtained from the steam distillation of the twigs, bark and leaves.
My Grandma loved Witch Hazel and you would often find branches with the flowers on in vases around the house.   The best results come with ingredients that have stood the test of time.