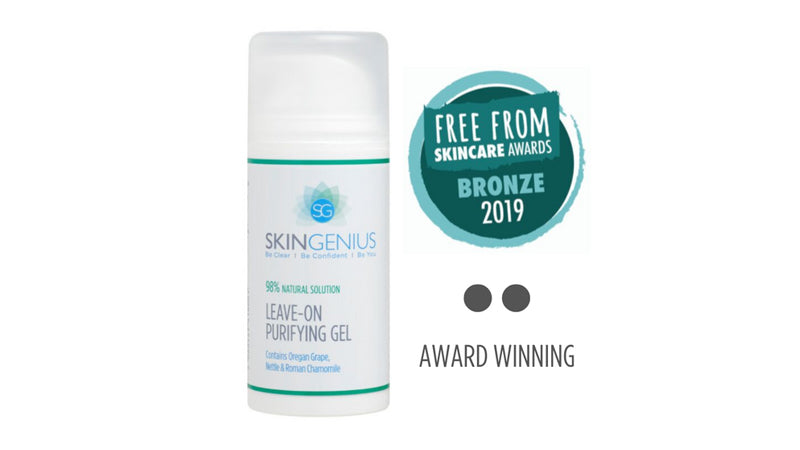 Roll out the red carpet as Skin:Genius wins Bronze Award this year for the Leave-On Purifying Gel - yippee!!
With over 300 entries and 150 companies including some from Europe, the judging process includes a rigorous month-long assessment by four experienced skincare testers and a week-long expert judging sessions and which is why we are so proud to be a Winner.  To win this award and be recognised amongst so many other established brands is just fantastic.
It was important to develop a product that was powerful, yet gentle, easy to use and delivered positive results quickly that everyone could use.  This treatment gel absorbs into your skin giving immediate relief, reducing redness and smooths skin-tone.  Quick and easy to use it can also be used as a spot-on direct hit.  This is your secret weapon and wonder product.  With the qualities of active ingredients used such as Oregan Grape, Nettle and Roman Chamomile, these all help to heal and regenerate skin cells, fighting and preventing the bacteria resulting in acne and spots.  Let the magic begin whilst you sleep.
Would like to here more? Here are a few comments from our customers;
"skin:genius has changed my life. Without it, I don't know where I'd be because I was having lots of spots before that I found really embarrassing. skin:genius cleared my skin and I now use it every day"
"skin:genius has worked!  After trying many various products for my 17 year old teenage son skin:genius has helped tremendously - it's kind to the skin and easy to use.  I would recommend this product"
" I am the mum of an 18 year old son who has suffered with cystic acne since his early teens. He was on medication for a few years and when this was changed, had a bad reaction. He stopped all medication and has since been using the skin:genius Clarifying Lotion & Misturiser.  Seven months later his skin has massively improved and keeps the spots at bay.  If he does get a spot and they go very quickly once the gel is applied. He finds the products quick and easy to use."  
"skin:genius has changed my life"
"People with acne should use skin:genius a million times over.  Thank you so much for creating something so powerful in such a gentle package"
We believe in the genius of your skin, which is why we've specifically designed this skincare routine that works, bringing positive results you can see and feel.  Start and end your day the right way with skin:genius.  Enjoy using!
Julia x